Welcome!
2020 began a dynamic decade. This time is revealing our ability to adapt with resilience and use resources thoughtfully. It is activating our interest in carbon literacy and climate action. And it is reminding us of our eagerness to bring creativity to our daily lives, collaborate with neighbors and find joy in unexpected places. Cool practices like these are unleashed on a Cool Block.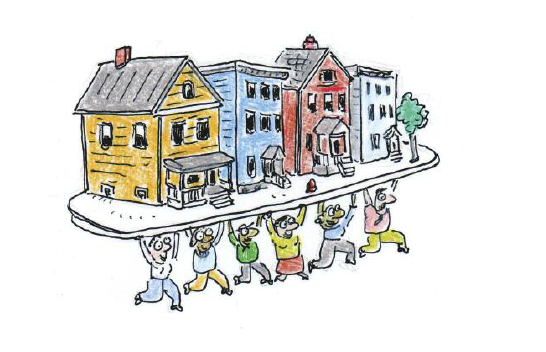 Cool Block is a place-based social support system which can transform the everyday quality of community life and of the world. Imagine a whole community better able to take care of itself and enjoy each other - block by block, neighborhood by neighborhood!
To witness a Cool Block journey in action - even through a pandemic - read this first-hand inspirational story from the leader of Shareable.
A Transformational Chrysalis
The Cool Block program will help us through the planetary "goo" to the world we want and need to create on the other side. 
It will help households and blocks become more disaster resilient - better able to address the multiple stresses we are facing and could face - by providing a social support system of neighbors. 
It will provide economic resiliency by helping households save hundreds of dollars from being more energy efficient while reducing their carbon footprint and helping us all have a better life on the one planet we share.
It will increase the livability of blocks and apartment buildings, making them healthier, safer, friendlier, greener and more resourceful from sharing tools and services with one another.
It will create a carbon literate, empowered and galvanized community where everyone has a stake in its future.
Now is the Time
Climate-savvy cities can use Cool Block to engage in collaboration with their community members, creating public-private-civic partnerships and setting themselves on an audacious path toward carbon neutrality - by 2030!  This Cool City Challenge moonshot was launched in California in 2021.
Interested leaders in communities of any size can try out Cool Block to discover its potential for their community. Ask us how to conduct a Cool Block pilot.
Inspired folks anywhere can ask to start a Cool Block on the street where they live. If your cool block is not part of a city campaign or pilot, a nominal fee will be collected from each household.
It works
The Cool Block journey is an integration of programs used by thousands of people. Embedded is an empowerment process that has been used by millions across the world. It will help neighbors make the needed changes to come out the other side with new friendships, true neighbors and a better life on the street where they live.
To learn more, take a video tour of the Cool Block journey!
To bring Cool Block to the community where you live -
Pre-apply to the Cool City Challenge moonshot journey
Ask about starting a Cool Block pilot in your community