An app dedicated to Cool Block communities
The Cool Block Hub app is a communication forum dedicated to the support of Cool Block communities; these are action-centered communities on a mission to become carbon-neutral. Cool Block participants, supporters, local resource providers, and others driving initiatives toward resilient and carbon neutral communities use the Cool Block Hub to ask questions and share thoughts with their local Cool Block community members.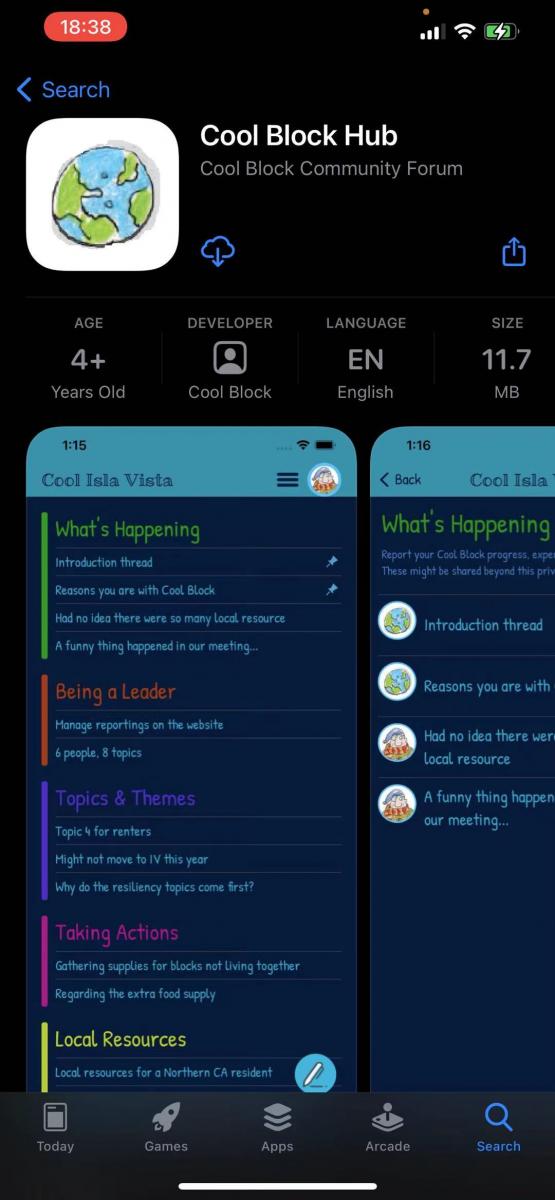 Why would I use the app?
Cool Block Hub is designed as a dedicated app in order to tightly connect the players across a Cool Block ecosystem, while making the user experience focused, intimate, straightforward and easy to navigate.
Before registering, a user provides a community password in order to join their unique community. (Ask your local leader for the password, if your community is currently using the app.)
Posts are organized into the following categories:
What's Working
Being a Leader
Topics and Themes
Taking Actions
Local Resources
Ideas and Feedback, and
Carbon Neutral Community Updates. 
How do I get the app?
If you are part of a Cool Block community and have a community password, download the app from the AppleStore (currently available on iPhone only). Search for "CoolBlockHub" or other keywords.
Support
For help in using this app, email us at: "community at coolblock.org".
See also Cool Block Hub FAQs.
Credits
Lead Developer - Haoran (Robin) Wang, UCSB Computer engineering major ('23)