Welcome!
2020 began a dynamic decade. This time has revealed our ability to adapt with resilience and use resources thoughtfully. It has activated our interest in carbon literacy. And it has reminded us of our eagerness to bring creativity to our daily lives, collaborate with neighbors and find joy in unexpected places. Cool practices like these are born and nurtured on a Cool Block.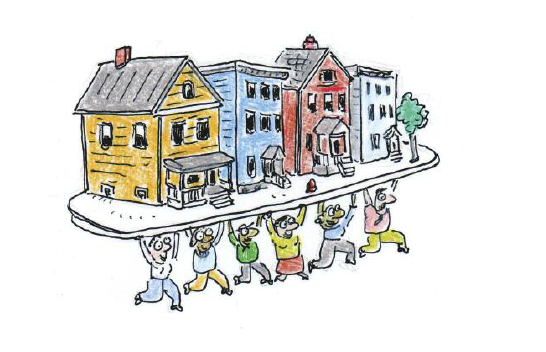 The Cool Block program can now be done virtually, serving as a place-based social support system to help you through challenging times while also improving the everyday quality of your life and your world.
Cool Block communities can continue their city-citizen partnership even during stay-at-home periods.
Interested community leaders can try Cool Block to acquaint themselves with the program and its potential for their own community. Contact us to request a "sandbox" account.
Potential block leaders anywhere can start a Cool Block as a place-based support system that can serve them now and into the future. (Outside of a community partnership, a nominal fee of $20 will be collected when each household registers.)
To observe the Cool Block journey in action, read this first-hand inspirational story from the leader of Shareable.
A Transformational Chrysalis
The Cool Block program has the potential to help you make your initiatory passage through the planetary "goo" to the world we want and need to create on the other side. 
It will help you as a household and block or building become more disaster resilient - better able to address the multiple stresses we are facing and could face - by providing a social support system of neighbors. 
It will provide you with economic resiliency by helping you save hundreds of dollars from being more energy efficient while reducing your carbon footprint and helping us all have a better life on the one planet we share.
It will increase the livability of your block or building making it healthier, safer, friendlier, greener and more resourceful from sharing tools and services with one another.
Imagine a whole community better able to take care of itself -- block by block, neighborhood by neighborhood. It would be one of the great silver linings of this time!
It works
The Cool Block journey is an integration of programs used by thousands of people. Embedded is an empowerment process that has been used by millions across the world. It will help you and your neighbors make the needed changes to come out the other side with new friendships, true neighbors and a better life on the street where you live.
To learn more, take a video tour of the Cool Block journey!
To start a new Cool Block where you live -